PIMSS Benefits
A small selection of the Benefits of PIMSS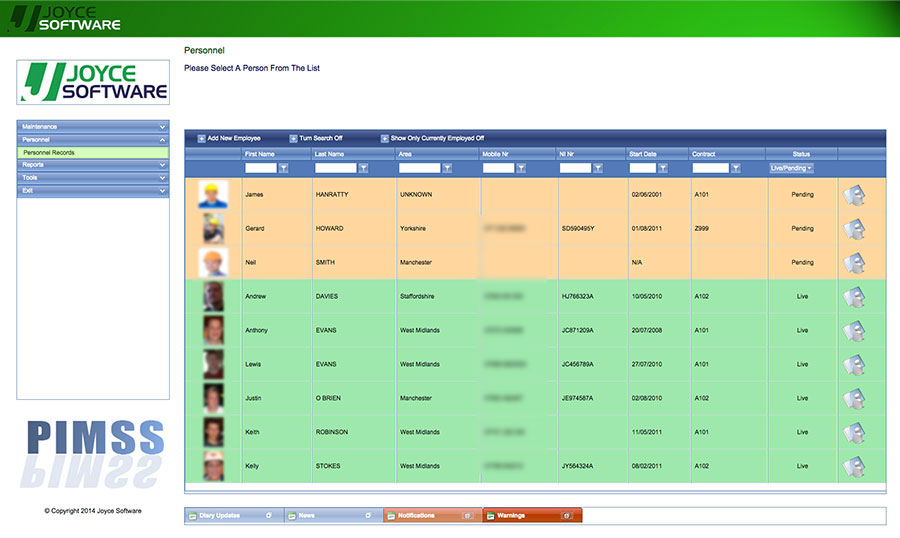 Multi User System
PIMSS is a Multi User System that effectively and powerfully manages a companies employees.
24/7 Access
Information can be accessed 24/7 from anywhere with an internet connection using secure servers that are based in the United Kingdom.
Powerful search facilities
Information can be easily sorted and filtered to show you the information that you want to see.
Time Saving
The management of personnel will now take minutes rather than hours and days, reports can be produced instantly.
Protective Equipment
Manage an employees Protective Equipment (PPE). Schedule replacement and work out costs.
Images
Store images of an employee as well as the front and back of qualifications Allows photo verification of employees and qualifications.
Legislation
Ensure that your personnel are qualified to perform the work that is required of them.
Warning System
PIMSS will notify you when qualifications are due to expire and when training needs should be realised, PIMSS can warn you regarding a variety of information.
Documentation
Manage and store items of documentation relating to an employee.
Training Needs
Record training that an employee needs to achieve and monitor the progress until completion.
Achievements
Record the whole life of a qualification and have the ability to measure the progress.
Export Data
Data within PIMSS can easily be exported to Spreadsheets or word processors.
Experience / Skills
Record the experience and skills of an employee as well as their roll within the company
Reports
A multitude of reports that will allow the user to produce reports on all aspects of PIMSS.
Discover PIMSS features