At last, a powerful tool to manage your personnel...
PIMSS Personnel Intelligent Management Safety System is an internet based software system designed to manage Personnel development, Qualifications, Achievements, Training needs and Competency of an organisations employees in the workplace.
The PIMSS internet software program can be used in a number of industries and sectors.

Manage all your training and qualification needs for as little as £1.00 per person per month !
Our PIMSS software is adaptable and perfect to help manage:
Qualifications
PIMSS will alert you when qualifications are due to expire
Training Needs
PIMSS will manage any future training needs that you may have
Documentation
PIMSS will store a wide variety of documentation for your employees
Protective Equipment
PIMSS will manage the allocation of Protective Equipment to your employees
24 / 7 Access from anywhere...
PIMSS is an internet based application that can be accessed 24/7 from anywhere that has an internet connection using secure Uinted Kingdom based servers.
It is a Multi User System that effectively and powerfully manages a companies employees. It provides functionality to manage all aspects of an employee.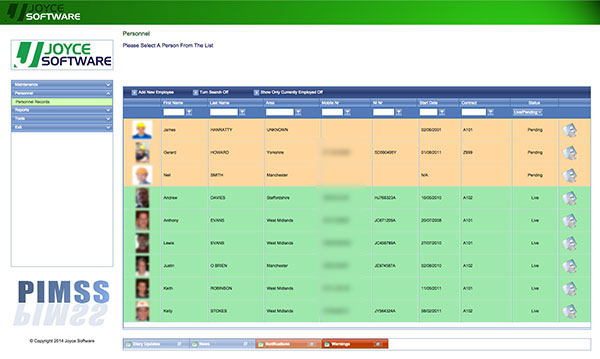 Comprehensive & Professional Reports
PIMSS includes a wide variety of reports that cover every aspect of the PIMSS application